chicken little says the sky is falling
Hemp! Hemp insulation sheets! Just returned from a building supply store marathon (four! in one day! gurgle.) I now have everything that I will need to finish the inside of my wagon. Everything. It is impossible. A finished wagon—this wagon, finished—has belonged to the realm of dreams for so long that even as I watch it creep closer and closer to completion I still can't really believe it.
Hemp insulation sheets are really fucking expensive, by the way. But my ceiling—final resting place of said hemp sheets—is curved, and cheap-o Styrofoam isn't bendable. Hemp is. And it breathes, which means that moisture doesn't get stuck in the wood, which means that the walls don't mold. Not as quickly as they might otherwise anyway. With things built out of wood, it is really just a matter of time. And I don't want to do this again for the next ten years. At least.
So hemp I chose, and I had to drive all the way to Darmstadt to get it. Regular building supply stores don't sell hippy shit. Those bastards. (By now you've probably noticed that although I enjoy making hippy jokes, I not only like hippies, I probably could be qualified as one of their ranks. Just to make that clear to any offended hippies reading this.) The cheap-o option was fiber glass shit, and I have no desire to put that shit in my ceiling, let alone live with it in there knowing I probably fucked something up and have little fiber glass particles raining down on me from some little crack.
Tomorrow Frau Doktor and I will put up the insulation and the ceiling, and I will euphorically post more pictures. After that I'll sand the floor and coat it with water-resistant yacht stuff. And then I can move in. Hallelujah.
Some pictures
This is what hemp insulation looks like. Three packs, which will insulate my ceiling and part of the still-open wall, cost 130 Euros. Ouch. One pack of fiber glass poison-on-a-roll would have cost me 16 Euros. No wonder nobody buys organic. But I have my priorities, and fiber glass is not one of them.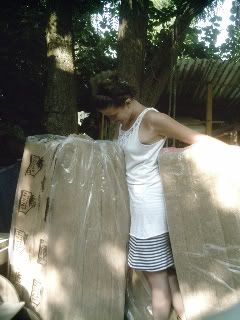 I've been spending most of my time lately painting. Tonight I'll put the last coat on the window frames and be done with that. I wanted to do stripes in the grooves along all of the walls, but it didn't work out on the thin boards, so only the thick ones got it (as you can see on the left next to the window). Probably all for the best. Stripes tend in a circus-y direction I may have quickly regretted.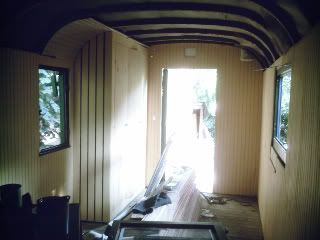 Last winter I painted the area around my future bed dark blue. Then I kept seeing pictures of rooms, and rooms in films, with shale gray walls and green-so-dark-it's-almost-black trim. I became obsessed, changed my mind, bought new paint, and did it all again. And did I mention how the yellow paint I bought last winter turned into moon cake in the cans? Had to buy that again too. So much for thrift. But the dumpster didn't seem like it was about to provide me with paint in just the color scheme I wanted, so fuck it. At least the wagon itself was free.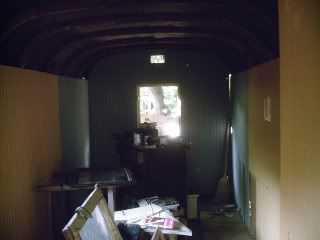 Tomorrow look for finished-ceiling pictures…