buy my snake oil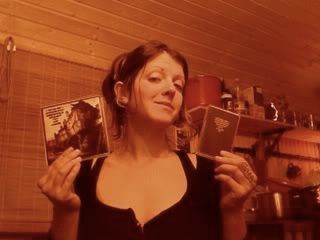 Ladies and gentleman of the jury, I present to you Exhibit A: cold hard proof that the Click Clack Gorilla does something besides lurk behind her computer writing blogs. Despite having recorded this demo cd almost a year ago, I have only now managed to defeat the demons that face me each time I sit down at the computer to attempt things that are not writing. Lucky for me and my impatience, PayPal actually makes selling things on the interweb pretty easy.
So here we are, me with cheap, diy country music, you with a few extra dollars in your pocket. Until the copyright folks catch up with us, you can call us Black Diamond Express Train to Hell. But once the band in England with the same name decides to sue us, we'll argue for months over a new name in order to decide on something even longer and less memorable. Let's all hope that that day isn't already strolling briskly towards us.
The music you'll find on the demo is country of the old-timey variety. I warble, and some other folks who I like very much play cajon, harmonica, dobro, guitar, bass, banjo, and mandolin. There are three old traditionals, and the rest are BDETH originals, which means you can expect to hear a good deal about whiskey, squatting, and sticking it to the man. Both cd and cassette come with a booklet full of lyrics and my wordy explanations of what the hell I was thinking at the time. Oh, and we did everything ourselves, from the recording (done in a basement practice room by a friend) to the booklets to the hand-stamped cds. DIY love and stuff.
Track list:
1. Two on the Road
2. Stranglers
3. St. James Infirmary
4. Crow's Nest
5. By and By
6. Salt Creek
7. Whiskey Walz
8. Wayfaring Stranger
I tried to make ordering all snazzy with a fancy button with a drop down menu with prices for cds, cassettes, and location, but it didn't work. In fact, after much clicking around on the PayPal website, it still doesn't work. So it's time for Plan C. Step one: look at the price list and decide what you want and where you are (prices include shipping):
CD Europe: 6.45 euro
CD America: 8.45 euro
Cassette Europe: 5.45 euro
Cassette America: 7.45 euro
Now, look over on the sidebar to your left. There you will see a picture of a blue wagon/trailer that looks like a shoe beneath the words "tip jar (donate!)." Click on this, fill in the amount for the bit of music you'd like and your area, and don't forget to include your shipping address when closing the transaction. If you're ordering multiples, let me know what it is you want. Otherwise I'll be able to tell by the donation amount you fill in. If you live somewhere that I haven't accounted for, then e-mail me (nicolettekyle (AT) yahoo (DOT) com), I'll figure out the postage, and we'll go from there.
People of Germany!
If you like what you hear or just want to meet the skin and bones behind the blog, Black Diamond will be playing a handful of shows in March, and a Germany-Holland tour is in the works for this June. Come for the whiskey and stay for the bar fights…
March 4: Mannheim // ASV – AGM Soli
March 5: Wiesbaden // Kulturpalast Hectic Society Fest with Pascow and others
March 11: Mainz // Haus Mainusch with Gunmob and Civil Victim
March 12: Wiesbaden // Kreativ Fabrik
May 13: Mainz // Not sure where but with Phoebe Kreutz (woo!)
June 18: Bingen // Open Air Fest Rochusberg
June 25: Ingelheim // Euro Folk Festival 7 pm
And if you happen to live in the vicinity of Mainz, you'll find an article about us in the February STUZ. Yihaw. Peng peng. Etc.