building project number three: stairs
Oh, how the spring air and the change of place has motivated me!
building a mini-porch and stairs (picture one)
I started with a heavy wooden bit (already assembled) that the guys at the plumbing company at the front of our property had put out with the trash.
Problem number one: only one angle bracket left from the bag full I'd found in the trash last summer, but need at least four. Solution number one: take apart some metal bits meant to use to hang long narrow flower pots from apartment balcony windows (those are the green things visible at the bottom of the picture). Found in on "big trash day" in the next neighborhood over.
head, shoulders, legs, and supports, legs and supports (picture two)
The wood I needed for the mini-terrace supports/legs came from a haul dumpster dived at the building supply store at the beginning of last fall. The thinner pieces of wood running diagonally from leg to leg (to make things a bit more stable) used to be a bed that, yes, also came from the trash.
Actually, everything I can see in the picture below is from the trash: the blue hand cart (upper middle), the wood behind it, the jigsaw lying on the ground (left), and technically speaking, the whole wagon itself…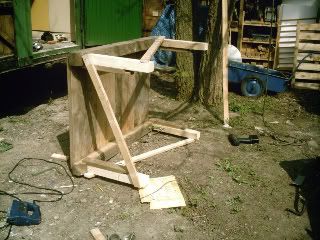 trash genius (picture three)
I didn't have anymore grommets, so I used my favorite free fallback: the beer cap. I pried nine of them out of the house garden where party-goers and vokü-eaters have tread hundreds of them into the dirt over the years.
Though it hardly makes me one, I always feel like a god damn genius when I can figure out a way to use something I already have to make something I need and/or to avoid purchasing something. Below is a close-up of one of the flower-pot holder angle-brackets with beer-cap grommets.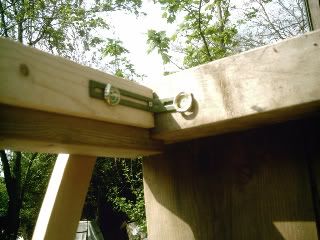 wherein i don't actually bother figuring out how to build stairs and find myself suddenly finished (picture four)
Confession: I totally cheated on building the stairs. I already had these little wooden stairs (a gift from a friend who didn't need them anymore). They were wobbly and falling apart, so I reinforced them and screwed them onto the porch, and wa-LA. A mini-porch is born, and it has passed the three-jump test.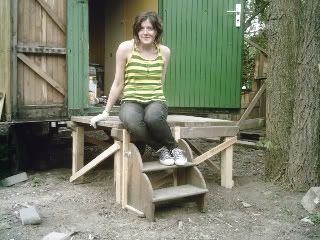 Next up in the building project series: removing the ceiling boards/insulating the ceiling, painting the walls, sanding down the floor, and fucking moving in!!!! The end is neigh. Or if not the end, the part where I can finally put my stuff between these four walls.