building project: a new terrace
I had been dreaming of a new terrace for months. One slightly bigger than what I had fronting my abode—with a roof and an outdoor sink for washing hands and doing dishes out in the green during the warmer months. I had it mentally planned out to the last detail, but I needed to wait. No need to build it before we moved my Wagen to it's new spot. I am not very good at waiting.
But, as always happens with time passing and waiting, the day arrived at long last. We moved my Wagen. We put my old terrace/steps construction (wow, remember when I built that? feels like a hundred years ago, which apparently translates to "about a year and a half") in front of our sleeping Wagen to replace the wobbly pile of stumps that had served as steps before. They had gotten dangerous. I had fallen off them twice, which is not fun at the best of times and is really upsetting when your body is pumping with prego hormones and you were running out the door to throw up.
Once my Wagen was in its new spot and propped up off its wheels courtesy of the lovely Frau Doktor, I was itching to build my terrace. I had a big pallet, and scrap wood left from a dumpster diving excursion at the building supply store. But I couldn't actually lift the pallet or bend down to screw on the leg supports. (This is the kind of thing I mean when I say things like "and pregnancy has rendered me pretty useless, physically.") I needed help. I don't particularly like asking for help—for weeks I used a chair as a temporary step instead—but when I finally did, two of my buddies agreed to do the job. So while I ran around fetching tools and screws, they put together this sweet little number for me. Aren't they awesome? I feel lucky to have friends who will build me a terrace while I haul this baby and its water cave around in my abdomen.
So: the project:
First they put four leg supports on the pallet (which was a bit complicated on the right side because of the mini hill there). But the pallet was a little unsteady, so they screwed a flat peice of wood on top of it to add more stability. All the wood was dumpster dived.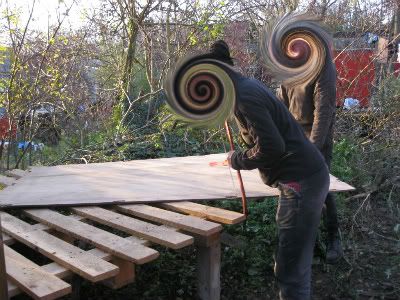 Messing with the height of the support legs: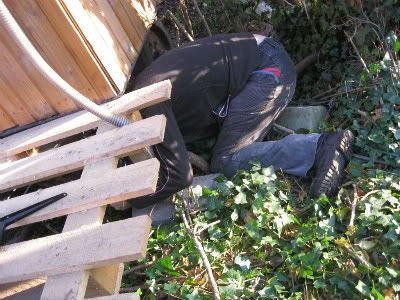 The "can it hold a human adult or is it about to break" test (preceded by the "will it break if I dance on it test"):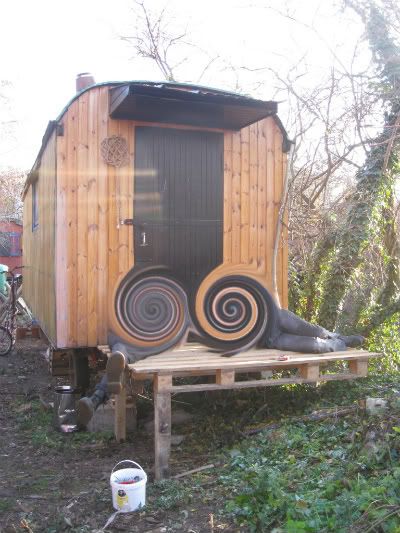 And the finished project, complete with lucky black cat: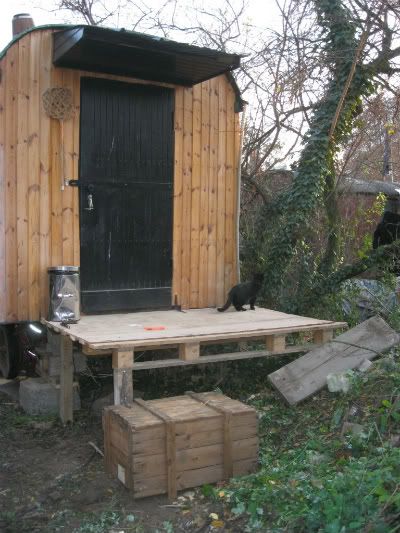 It's not entirely finished—as you can see there is no roof (well, not one big enough to cover the whole thing) and no outdoor sink. But those can wait for spring when I have my body back to myself and I can lug another pallet home to extend the terrace further in the direction of our sleeping Wagen (making the path between our two Wagens shorter), put on a bigger roof, and install the outdoor sink.
This post was featured on Farmgirl Friday at Dandelion House.