since i spend most of my time these days thinking about books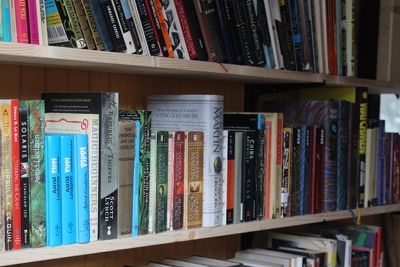 Who was that person who said, at the beginning of this year, that she wouldn't buy any new books until she'd cleared off at least 50 books from the old to-read shelf?  It couldn't have been me because that hasn't happened at all.  In fact, obsessive list-maker than I am (at least when it comes to books and to-do lists), I started keeping a list of the books I acquire each month, in order to make clear to myself exactly how much I'm buying and how those titles correlate with the books I'm actually reading.  It is kind of fun.  I got the idea from Genre-Bending, which is currently one of my favorite book blogs.
It also inspires me to not buy all the fucking books, because then, when I unviel this new list at the end of the year (which I am planning to do around "the year in books" time), I will be less embarassed by the gaping canyon of disparity between what I buy and what I manage to read.  Which is really quite good.  So, yeah, I've gotten some books, but I've gotten a lot less books than I would have without that list to keep me conscious.  Yey lists.
I have now promised myself that I won't buy any new books until I have read 20 from my to-read shelf.  As in 20 paper books; I'm not counting the ebooks that I keep reading in between.  Twenty sounds like a more reasonable number than 50, and a couple of books I am a'twitch for won't be out for another couple of months.  This month, for example, I haven't bought a thing.  So what if a publisher sent me three for review and I traded for four others on bookswappers.de?  Those don't count.  Right?  RIGHT?!  Indeed.
Look, I built some new bookshelves: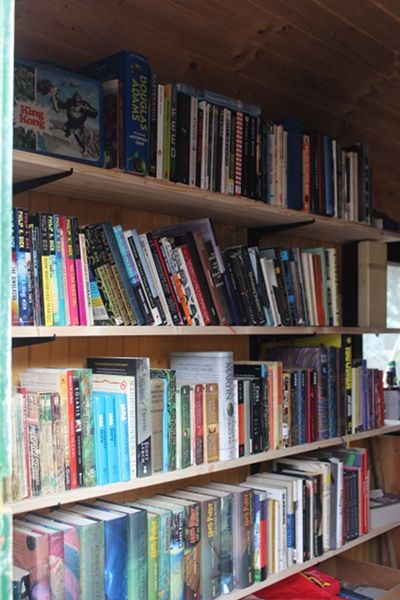 what i'm reading
I always have more than one pot brewing simultaneously.  Usually something nonfiction, some easy fiction for before bed, some fucking amazing (but sometimes hard) fiction for my more congizent moments, something in German, maybe even a couple of each.
I started the year with Cassandra Clare's Mortal Instruments series as my "I'm too tired to really use my brain" nighttime reading.  While I enjoyed it (mostly because I liked the movie and the books allowed me to keep obsessing over the beautiful beautiful actors who play in it), it is not particularly good.  I wouldn't recommend them.  At all.  (In their case the rather cheese-balls movie was actually better than the books themselves.)  I stalled out after three books and moved on to better things.  In this case The Song of the Lioness Quartet by Tamora Pierce.
Somehow I missed this series as a kid, which is a big fat shame; I would have loved them.  The good news is that I am loving them as an adult (I'm in the middle of the third book right now).  Unlike Dealing with Dragons, a series that I did read and love as a kid and which I reread at the beginning of this year, I am finding myself completely immersed in the story and eager to read the next and the next and the next book.  (Usually I need a break between segments of a series.  With Dealing With Dragons I had fun, but could always feel myself reading; I couldn't lose myself in them as an adult.)  And at about 100 pages each, they are delictable little morsels I can finish in a night, which is very satisfying.  They deal with sexism and gender stereotyping, and yeah, I always like books that do that.
Then there is Samuel R. Delaney's Dhalgren.  Holy shit, this book.
  The first two pages were so intense and so magnificently written, that I had to put it down for a while and read something else.  Mr. Delaney is a master.  I stand in awe.  Dhalgren is turning out to be one of those books that always makes it onto the post-apocalyptic (PA) reading lists, but isn't really post-apocalyptic.  Usually that annoys me, but this is so good that I can't be bothered to care.  Sure, there is a town that seems to have experienced apocalypse, but it is an anomaly, a mystery, maybe even a metaphor.  Whatever it is, it transcends the genre of PA and rides the air currents above us, out of reach and beautiful and god-like, a sun.
In the non-fiction arena we have Psychotic Reactions and Carburetor Dung
by Lester Bangs, which I have been trying to finish reading for, I kid you not, over ten years.  Someday, someday.  More recently, I started How to Cook a Wolf
by M.F.K. Fischer which is about cooking during times of war and scarcity, and which is really interesting but something I don't really feel like racing through at the moment.
Lastly there's Momo
by Michael Ende (you know, famed author of The Neverending Story, another book that is sitting on my to-read shelf), which is my current German read.  It hasn't grabbed me yet, but I haven't gotten to the time travel bits yet, either.  The characters keep telling tangential stories which don't interest me (though I imagine they would go over very well with the much younger target audience).  Here's hoping it gets better.  I am determined to school myself in German science fiction and fantasy this year, so help me cod.
publish it already!  the gorilla grows impatient
I have become an obsessive book blog reader.  Whereas I used to find out that an author I like had a new book (or that such-and-such tome of awesome from right up my alley had) come out when I saw it in the store.  Now I hear about them months in advance.  It is torture.
After the End
by Amy Plum is the title whose as-yet-unpublished state is causing me the most pain at the moment.  It is the post-apocalyptic book I wish I had thought to write.  At least, as far as I can tell from the blurb: "Juneau grew up fearing the outside world. The elders told her that beyond the borders of their land in the Alaskan wilderness, nuclear war had destroyed everything. But when Juneau returns from a hunting trip one day and discovers her people have been abducted, she sets off to find them. And leaving the boundaries for the very first time, she learns the horrifying truth: World War III never happened. Nothing was destroyed. Everything she'd ever been taught was a lie."  I can't fucking wait to see how it pans out, which I will finally be able to do in May.
The second is a cookbook.  Specifically, The Real Food Cookbook: Traditional Dishes for Modern Cooks
by Nina Planck.  I devoured (haha) her book Real Food for Mother and Baby
when I was pregnant–I really enjoy her writing and her outlook on eating and cooking and food–and now that we finally have a full-out kitchen, I have been looking for a few new cookbooks for inspiration.  It doesn't come out until June.  Gah!
And now I turn to you, dear readers.  What are you reading right now?  Have you read any of the books I mentioned?  You know I love a good book discussion…
PS The links above are affiliate links, which means if you click on them and decide you want to buy the books through those links, I get a little cut.  But hey, your library probably has these books too, and the library needs as many of us as possible in order to prevent extinction.  So there's also that.