bike hulk says: baby bike trailers win all the awards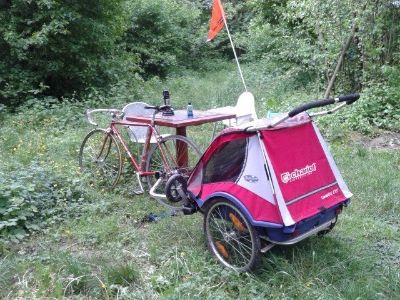 Sometimes I forget how great being on a bike can make you feel.  How exhilarating it can be.  Like, for example, when you don't ride a bike for two years because you're pregnant (and then too nauseous and then too spacey and then too enormous and keep kneeing yourself in the belly when you try to peddle) and then because your freshly squeezed newborn doesn't do anything but scream when you try to use the bike trailer.  I forgot then.
But Pickles doesn't hate the bike trailer anymore.  Now she tolerates it for up to two hours at a time.  Now it almost always puts her to sleep for a 40 minute nap that she wouldn't have taken at home (which, much to my surprise, seems to be resulting in better and more sleep nights, weird).  Glory glory hallelujah, I am no longer a slave to the Deutsche Bahn.
Not that I don't like the Deutsche Bahn.  I love the Deutsche Bahn.  Public transportation in Germany wins all the awards from me.  But it can still be a hassle.  And it still costs more money than I'd like to be spending on something I could be doing for free (2.60 a pop, 6.somethingorother for a day pass, 9.80 for a group day pass).  Because of the lay of the tracks and the waiting and the walking time, I am actually faster than the train when it comes to going into the city.  (A sentence that makes me feel like the bike hulk.  Heh.)
Now I go out of my way to find reasons to go for a ride, places to journey out to.  Like today, when I was here: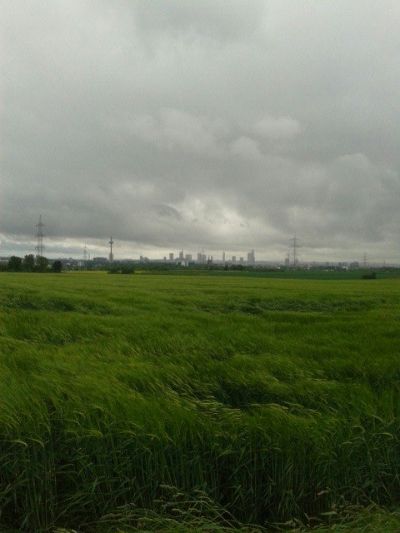 The ride took me to a village to the north of Frankfurt, and the way was almost entirely through fields that looked like this, on paved bike paths where I met the occasional walker, dog, or fellow cyclist.  The weather looked mean (it was faking), so only a handful of people had braved the backsides of their doors.  And the city lurked off in the background, far away from us.
Judging from the kilometer count, it should have taken me 30-40 minutes to find my way to my friend's apartment this morning.  But it turned out that Google maps had invented a path, and I did a lot of backtracking and stopping to check the map.  In the end I was almost 2 hours in getting there.  But it was a lovely ride.