battenkill ramblers, froggy mountain boys: germany taken by fiddle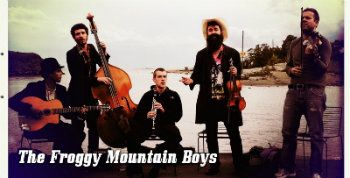 Today it begins.  Our tour with The Froggy Mountain Boys, our first long(ish) tour with Baby Pickles.  I jump for joy for my ears, and I fear for my sleep.  Being on tour with a baby is fun, but usually means even less sleep than usual.  I go to bed late, Pickles wakes up early as usual.  But The Froggy Mountain Boys!  Yohoo!  Yip yip!  Yihaw!  These folks are excellent musicians—western swing is what they do—and I am excited that every night for the next seven days, I will have the honor of playing music, exploring, and sitting in cramped buses with these five fine gentlemen.  Did I mention that none of us have actually ever met?  Shabam!  Tour, here we come.
As you have probably already noticed, The Froggy Mountain Boys are fronted by Another Beard.  We can only hope that no duels will result over issues of bushiness.  Whose fiddle disappears under the most hair during a show?  How many have already been lost in that other black forest?  When Baby Pickles gets testy, the Beard can just tuck her up in his luscious red locks for a little nap while I dosey doe.  A bearded union.  But enough with the beards already.
If you're around Germany or Holland, you can catch us live at these wheres on these whens:
October 3 // Halle 14, Karlsruhe, Germany (show starts at 6 pm sharp)
October 4 // Cafe ExZess, Frankfurt, Germany
October 5 // Baron, Mainz, Germany
October 6 // Der Bock, Mannheim, Germany
October 7 // Pub Tom Bombadil, Solingen, Germany
October 8 // Baklust, Den Haag, Holland
October 9 // Vrankrijk, Amsterdam, Holland
And speaking of catching us live, if you do, we now have fan-fucking-tastic baby merch.  Every piece is different, so as of now it is only available at shows.  If you desperately want to order a baby onie over the internet though, drop me a line and we'll figure it out.  But first, look!  "Born to folk!" HardeeharharHAR!