baby pickles and mama gorilla: the first two weeks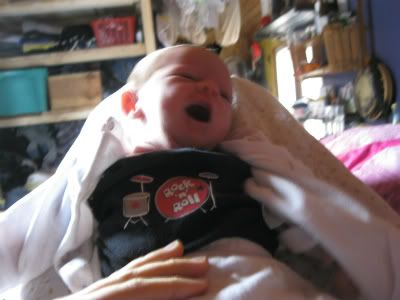 Hot damn.  I bitched and I moaned, and now I've finally arrived at the long awaited moment: I'm no longer pregnant!  Hallelujah and wow.  (!!!)  Despite the operation recovery process and the 20 cm scar that has me walking even more slowly than I was while prego, I feel great.  Breast feeding is going well, and I don't even have sore nipples.  I can lay on my back again.  Pickles is healthy.  I don't have to get up fourteen times a night to pee.  I've already dropped 22 of the 33 pounds I gained in the last nine months.  And if I wanted to, I could even drink a beer.  A beer!  Wow.  Did I say that already?  Well three time's a charm.  WOW.  Life is good.
As I type this Pickles is asleep on my chest, the little dash in our lower-case "t."  It seems to be one of her favorite spots, and since I keep putting her there, I guess it must be one of mine.  She's generally pretty mellow, though she does the occasional "I'm going to scream until I'm red in the face for no discernible reason, and then suddenly become calm for further indiscernible reasons so take that people who forced me out of the comfortable, warm water cave where I could do acrobatics and was constantly supplied with food and drink and brought me into this horrible, gravtiy-ruled world!"  She doesn't much like having her diaper changed, and when the midwife suggested that today we give her her first bath, she didn't much like that either.
And, have things been going as I expected?  Well, no.  I expected to be getting a lot less sleep.  (We're averaging at seven hours a night, an interrupted seven hours for breast feeding of course, but still, seven hours!  I was expecting to be getting about two during this period.)  I also expected to be wearing her around more.  But one carrier she doesn't like and another carrier I can't figure out and the third carrier she's much too small for (might be the problem with the one I can't figure out as well).  So I'm ordering one of those wrap things (anyone have any experience with those they want to share?  much obliged).  I avoided them while shopping for baby stuff because I thought they looked complicated.  Now they look like potential salvation.  I don't want to spend all my time finding amusing places for Pickles to lay while I go about my business; I want to carry Pickles around while I go about my business.  Particularly since my daily life usually involves running back and forth between at least two different trailers.  Fingers and toes locked in a crossed position.
because i had to go there

Remember this picture?
Well.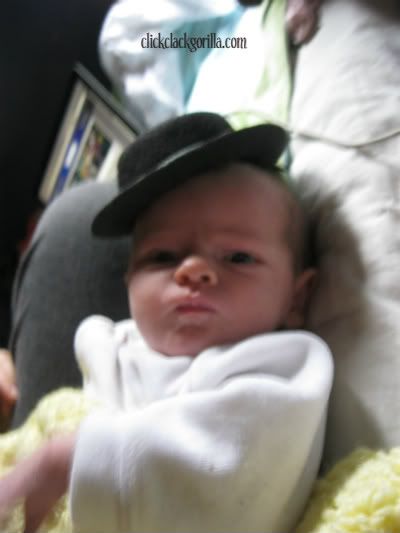 How the hell did all that ever fit in my stomach?  And is she, in fact, plotting my demise, Stewie-style?  The eyes say yes.  The hat says yes please.