babies and concerts: the first few months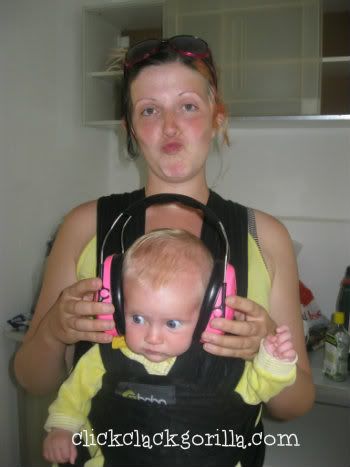 Two days before Baby Pickles' two-month birthday, we played our first post-birth concert. There had been offers for others just weeks after the birth, but I didn't feel up to it—to standing on stage for 40 to 60 minutes, for being away from Baby Pickles for more than the time it takes to go to the bathroom or take a shower, for staying awake past 9 pm.
That first concert was just down the road from our house.  I wore Pickles in the Boba Wrap, and people told me I was badass for playing a show so soon after having a baby.  I didn't feel badass.  I felt like going to sleep.  But it was a relaxed show, a nice quiet re-entry into being on stage after the birth.  I didn't throw up, the folks in the other band were sweet and friendly, and the venue had my favorite alcohol-free beer (Erdinger, mmmmmm).  All in all it was a very pleasant evening, and the next night we did it all again at a venue across the river.
Baby Pickles was fine at both shows, was just like she would have been had we been at home.  We'd brought along a babysitter—our friend Frau Doktor, our neighbor and attendee at Baby Pickles' birth for the first evening and her oddfather for the second—to take care of Pickles during the show.  Pickles cried through sound check and then slept through the show in Frau Doktor's arms.  The next night she slept through sound check in the Boba wrap and then screamed through the show.  (By the time we came offstage she was asleep.  Score.)  When we came offstage both nights I eased her back into the Boba, where she slept through the next band and the walk home.  Minus the initial crying, it has become our "baby at concert" status quo.
Before Pickles was born, when we had been deciding how long to wait to start playing concerts again, I had been nervous that two months would be too soon.  Would she be ready?  Would I?  Would she hate being away from me for so long?  Would I hate being away from her for so long?  Would she scream during the entire show?  Would we have to stop in the middle of things so I could breastfeed?  What would people think if I wore her onstage?  Well, it turned out that two months was the perfect amount of down time.  She was fine, and I was finer—it was lovely to have an hour when I was not a mother, but the singer of The Battenkill Ramblers, regular old me.
At this point we've played six concerts with her in tow and she always sleeps—through our set, through the sets of the bands playing before and after us, on the way home.  I don't know if it's due to the whole "I'm an infant and sleep a lot thing" or if it's just a part of her personality.  Either way I am so glad.
Of course we try to make it easy for her.  I breastfeed her before we go on, and though she seems to have absolutely no problem with strangers holding her, we always take a babysitter who she is familiar with (we've had four so far, I heart all our friends who let us "pay" them for the favor in the free food and drinks we get for playing).  We haven't yet needed the baby headphones you can see Pickles wearing above, since we're not a particularly loud band, but they're a good option to have as well.
Booking shows has become a little more complicated, though.  Now we've got to make sure there is an infant-friendly space for Pickles to hang out in while we play, that the sleeping quarters are baby-friendly (smoke-free, some sort of bed/mattress situation where we can safely co-sleep).  For the most part concert organizers have been incredibly supportive and helpful, though we have had one show canceled "because we don't feel that the venue will be a good place for a baby that night."  (Would have been nice if they left that decision up to us, but ah well, at least we figured this out beforehand.)
Are any of you musicians who have taken children on tour or to shows?  Or a parent who has taken your kids to concerts?
Category: Music, Parenting, Philosophy
Tagged: baby, concert, infant, Music, music and babies, playing concerts with an infant, punk dad, punk mama, punk mom, punk papa, touring with baby, touring with infant