and then we had a kitchen and life was suddenly all marshmellows and cartwheels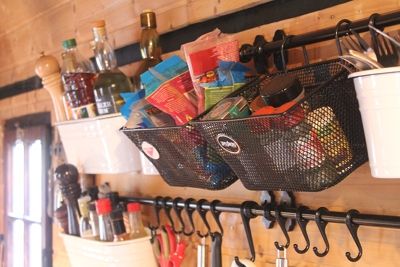 The kitchen is done.  Almost.  Minus a sink, but who needs a sink when you, after three years without, suddenly have a stove with an oven for baking?!  And a table!  You probably have never imagined your life without either of those things, but I am here to tell you that you probably underestimate their awesomeness.  We've had ours for a few weeks a piece (at the time I was originally writing this post), and I still can't stop gushing about them.  We have a table!  We have three flames to cook on!  I can bake things without walking to someone else's kitchen!
A table!  A stove!  A table!  A stove!  See?  I could go on like this all day.
There was very little building involved in setting things up.  There were a number of walks to the building supply store with a little cart for wood and black paint for the shelves, and there were two very disgruntled trips to Ikea for the rods to hang all the utensils from (yeah, I love those lots) and more glass jars to add to my collection (not only does food in glass jars make the prettiest decorations, they also keep the grocery moths at bay).  I had to take out the bed that was where our table (thanks, freecycle!) is now, but otherwise, it was all painting and hanging shelves with a side of organizing.  I am totally in love with the results.
It is so exciting, that I don't even mind the extra work of lighting a second wood stove every day.  Of course Germany is experiencing the winter of spring (mud, rain, really mild weather), so it's not as hardcore as it might sound.  For now.  And when we put Pickles to bed we finally have a room to hang out in where we don't have to whisper.  (Tangent: Did you know that there is a baby moniter app?  I was about to buy one of the damn things when I realized I could just tell me phone to call the Beard's phone when Pickles made noise.  Whoa.  Thanks, technology.)
I wrote all that almost two months ago.  And I still haven't gotten any good pictures of the damn thing.  Every time I think of it, the light sucks.  So this is a little teaser, and here's hoping that the unbelievable spring sunlight that has shown up with March provides a better stage for kitchen plus camera.
Also: My computer has been broken for a long time, but now it is fixed (FUCK YEAH) so I should be back here more often starting now.  Also also: There is a Click Clack Gorilla website redesign coming soon.  Exciting exciting exciting.
How are you?