and the gender goes to…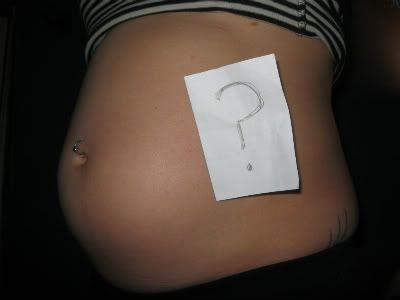 So I was going to make you all writhe in suspense for a couple of days, wondering what the results of the gender-revelation ultrasound were. But then I thought that maybe not everyone likes suspense as much as I do, and anyway, why not? Dumpster find of the week can wait one more day. So, tum ta ta tum tum tuuuuum! It's going to be a girl peanut.
Back at the very beginning of the pregnancy, I thought I might prefer to have a girl. But then I imagined a small giggly version of the Beard playing a little-kid version of hangover wrestling (a Beard patented invention) in bed and decided that I would like to have a boy too. In the waiting room at the doctor's office yesterday afternoon, the Beard proposed a bet. "Whoever loses has to pay for an evening in the sauna for both of us." He bet boy, and I bet girl. Sauna night here I come.*
And so the gender coding that Peanut will have to deal with for the rest of her life begins. I've already noticed it at the flea market among the shoppers. "Is this for a boy or a girl," a woman will ask, holding up a white onie with a picture of a dog on the front. "For a boy," the stand owner might answer. "Oh, well then never mind. She's having a girl." What exactly is so "boy" about pictures of animals and so "girl" about that hideous shade of pink is beyond my comprehension. But you can tell which flea market stands are which from a mile away. Whoever decided that that color pink was good for anybody of any gender has a hell of a lot to answer for.
To me, pictures of animals don't say "boy" or "girl," they just say "kid." And because I did all of Peanut's clothes shopping before we knew what Peanut's biological gender was, she is going to have a lot of clothes with pictures of animals on them or in fun bright colors, that is to say "boys' clothes." Because the boys' clothes tend to strike me as generally gender neutral, while most of of the girls' clothes tend to strike me as offensively hideous. And does an infant need to wear a dress?! But you've probably already noticed that I don't understand most of today's infant fashions. Ha—infant fashions. What a time we live in.
An infant's gender is an interesting thing to know. It'll be relevant in the doctor's office and during impromptu biology lessons. But otherwise, who cares? What gender person she chooses to have sex with, what gender she identifies as, what pronoun she wants to use, and how she chooses to dress herself are all questions that will come later, to be asked and answered by her. Why start asking them now?
*Fun facts for the culturally interested: All the American pregnancy books say not to ever, ever enter a sauna while pregnant, while all the German pregnancy books (and doctors—we've asked) say it's not a problem at all. Which just goes to show you that a lot of pregnancy taboos are just cultural ticks.
**Other fun facts for those who like nitty-gritty details: Baby heads look like ghoulish demons on the ultrasound. All of Peanut's organs are present and intact. No open back, heart wall, or lip. Mildly large head. Twenty-eight centimeters long in week 22 of water cave life. She's up to 500 grams in weight, and I'm up to 66.8 kilos. And I really like being round, even though I'm already starting to walk like a constipated duck.
Read more posts about gorilla pregnancy
if you do not buy our products, we will kill you
buns, ovens
possibly the future kindermobile
ramen confessions
punk rock dads and peanut's pants