and sometime soon i will finally stop babbling about wagon repair
Eight hours of computer screen in one day, even if it is only two days a week, is enough to cure me of the internet. And so I show up here less and less, even though I occasionally write to you in my head, putting together sentences I'd maybe use to tell you about commuting to work or sanding floors or staying in a medieval castle youth hostel. Instead I forget them and disappear for weeks at a time.
But today it rained. I can't work inside the wagon because the water-tight floor coating is still drying, I didn't want to sand untreated boards in the rain, and there is a concert in the house tonight, which means the one place I could have painted and stored the freshly-coated and/or painted boards (for the bed and shelves) will be occupied by musicians and their instruments and people drinking beer. So I read an entire Philip K. Dick book (Clans of the Alphane Moon) in bed and am finally remembering to stop by and say hello.
In parting, I present to you evidence of the astonishing progress I have made, complete with before and after photos so that perhaps you too will feel as astonished as I do. To those of you who couldn't give a rat's ass about the wagon renovation project: do not despair, in a matter of weeks it will be over and I will get back to writing about trash and marauding and gorilla conspiracy.
Circa December 2009:
Yesterday (July 2010):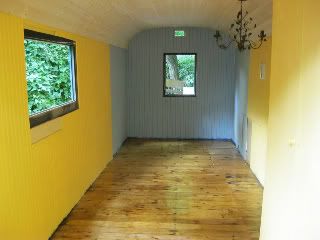 Seeing those two pictures right up next to each other makes me feel like I am a high five.