an ode to mainz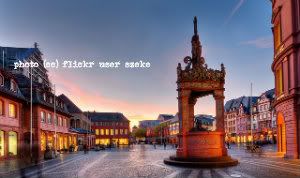 When I first moved to town I didn't even really like Mainz.  What I liked was the community that I would be living in, and the lack of an hour commute between me and the Beard.  Long distance relationships suck, but I was willing to have one with the city of Frankfurt.  Expats love to hate on Frankfurt, but I love to love on it.  I can see how all the banks and faux New York-ing might put a body off, but it can be quite charming once you take the time to get to know her (as they say in German) "chocolate side."  But that is really besides the point.  The point is that, this week, I found myself appreciating Mainz, really deeply appreciating it, for the first time since I had moved here almost four years ago.
Sure took me long enough.
It's not that Mainz is an unpleasant or unattractive city.  Sure, most of it is, architecturally speaking, hideous.  But that's because most of it was flattened during World War II.  I weep to think that it once looked as magestic as Wiesbaden.  Sniff sniff.  Then again, Germany deserved to get the shit bombed out of it.  They were gassing people alive for being born under the wrong star for chrise's sake.  Ah well.  Fascism: 0.  Mainz Architecture: 0.  All of the Rest of Us: 1.  Architecture be damned.
Despite the over-arching hideousness of the buildings, Mainz does have its pretty sides: the Augustinergasse (a pedestrian street with henoiusly over-priced stores, but lovely buildings), for one, and the cathedral, for another.  There is even a church here (St. Stephan's) with windows done by Chagall (which I still haven't seen with my own eyes).  Besides, who needs buildings to provide beauty when you can take a walk along a river, sparkly in the sun of a beautiful summer day?
The reason that I never really fell for Mainz is simple, a matter of taste really.  There just isn't that much to do here.  In Frankfurt there are tons of concerts I would love to see.  In Mainz, unless I'm the one organizing them, not so much.  In Mainz there is one vokü, the one at our house every weekday afternoon during the uni semester.  In Frankfurt there are voküs at three different locations throughout the month.  There are two vegetarian restaurants in Frankfurt (as well as the best falafel of all time, as well as the best pizza, Vietnamese, and African).  There are no bars that I enjoy visiting in this city.  Not one single one.  Not so in Frankfurt.  And on and on.  But Mainz does have a couple of things up it's sleeve, things that I have been enjoying for quite a while now without really realizing it how good I had it.
But last week with the Beard off on a 48-hour work shift, I started going for evening walks.  In five minutes I can be in the middle of a field, listening to the drying rye stalks rattling against each other or looking off into a field dotted with hundreds of blood red poppies.  Mainz is a city in the country.  With a population of about 200,000, it's still got a (small) city vibe.  (Then again, I come from a "city" with a population of 1,000, so big to me may be small to you.)  But then there are the fields, and the pervading small-town-ness feeling of the place.  Granted, on the other side of the fields I walk through there is a highway (or train tracks, depending on which side we're talking about), but that was never possible in Frankfurt.  More green, more awesome places to take long walks without having to be preceded by long train rides.  That's important.
Then there is the vegetable market (Wochenmarkt).  Three times a week in the center of town stands go up selling vegetables from local farms, from across Germany, trucked in from Italy, you name it.  It's where I do most of my grocery shopping, and let me tell you, the Hausmacher Bratwurst from the second butcher's cart in the second row is the best I've ever eaten.  Every Friday I stock up on milk and yogurt and quark from a farmer in Kerzenheim, buy two Bratwurst, and then fill my backpack with more vegetables than I can reasonably carry.  The people at my regular stands recognize me, and I enjoy there familiar banter.  Much more fun than a trip to Aldi, tell you what.  And according to the internet, there are eight other markets going on in Mainz on a regular basis.  Of course there must be awesome vegetable markets in Frankfurt too, cities usually have them somewhere, but I've never been.  If I lived in Frankfurt where would I get my raw milk?
And then there is the singing falafel man.  Frankfurt may have the best falafel I've ever eaten in all my 29 years on earth, but Mainz has the singing falafel man.  Just around the corner from the Römer Passage you'll find him, and if you catch him on the right day in the right mood, he'll sing you your order.  It's pretty adorable, and the rest of the menu is pretty sweet (and not expensive) too.
I've been enjoying these things for years now, but I never noticed, never noticed that the city of Mainz had actually grown on me, that it was more than our little community up on the hill that was keeping me happy here.  Who knew?
The above photo, which is (cc) flickr user szeke, is the center of the city and the location of the Wochenmarkt.  Looks quite magical there doesn't it?