ah yes, so this is winter
I had almost forgotten what it was like. The frozen water. The biting chill in the air. The layers of clothing. The intensity with which the wood stove must be fed in order to keep the Wagen warm when winter finally decides to show its frosty locks.
In preparation we'd turned off the water in the bathroom Wagen (during the winter we use the "flush with a bucket of water" method rather than risk burst piping), and I'd even remembered to move the two packages of hair dye in my Wagen to the sleeping Wagen. (Purchased for the orgy of chemical use which will ensue post Peanut landing. By which I mean, the single beer I will drink and the dye I will use on my hair. Wooo, bring on the poisons! Haha. Sounds a lot less appealing when I put it that way, doesn't it?)
But, being out of practice with the concept of winter after a mild three months of fall-like "winter" I forgot about the bottles of water on my counter and the milk on my stoop. Oops. This morning I laughed when I saw my favorite glass bottle spouting ice. And frowned when I saw that the glass had cracked in several places all the same. Damn.
The two liters of milk I had on the stoop hadn't exploded (guess I should be thankful that I've been too tired to get to the farmer's market to buy my beloved brown bottles of raw cow juice—they definitely would have exploded), but even balanced between the wall and the very edge of the wood stove it took several hours before I had enough liquid to pour into my oatmeal. Lesson learned, winter, lesson learned.
long live the wood stove
Though winter weather always comes as a bit of a shock to me, I was excited to cook on the wood stove again. Sure, I could have cooked on it earlier in the season, but when it gets really cold, the stove tends to, more often, be consistently hot enough to use for food preparation. I filled a small pot with a package of frozen spinach, a package of gnocchi, and a little water. After about forty-five minutes the extra water was gone and everything was warm and ready. The final touch was a splash of milk and a package of gorgonzola cheese crumbled into the mix, and wa-la, wood stove gnocchi with a gorgonzola sauce. I'm eating it right now. And thinking that maybe I should start wearing a bib.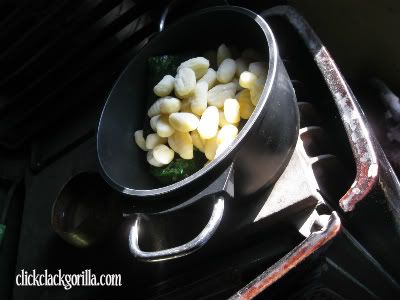 Is winter still playing at mild where you are? Or is the cold weather hitting everywhere simultaneously?
This post was featured on Homestead Barn Hop at The Prairie Homestead.