a wagenplatz fest
Ah summer. It's a good time of year for contented sighs and wiggled toes, for afternoon siestas and cold slices of watermelon. Every year around this time a Wagenplatz in the region celebrates its birthday with a weekend-long festival. A good opportunity to open a little photographic window onto life on other Wagenplätze for Click Clack Gorilla readers, I reckon.
I've been going to this birthday party fest every year since I moved into my first wagon-trailer in Frankfurt. During my first visit, my team won the rally/forest scavenger hunt and a rather poor flirt told me that the bags under my eyes were really beautiful when I smiled (top nominee for "worst pick up line ever" award). The following year the Beard and I borrowed a handful of the festival Platz's axes and spent several hours in the forest taking faux fantasy metal pictures. And last year I rode to the festival on the back of a motorcycle, had a few beers, and rode home again before some impending drama managed to envelope us.
Friday afternoon people from other Wagenplätze start rolling up the bumpy dirt road that leads into the cool forest beneath which this Platz is nestled. On that road I always find myself wondering how the residents get out in the winter, or if they simply don't. Big old-school buses and vans that have been turned into cozy wood-paneled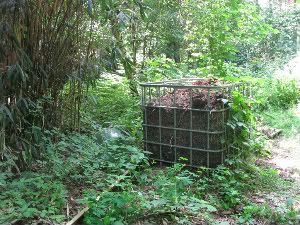 living spaces line up along the road that leads past the fenced-in Wagenplatz and deeper into the woods, and the tents of those who have arrived by car, by bike, and by train dot the green-ferned, brown-leaved landscape between them.
Right: One of the Platz's compost containers.
The Platz residents borrow electricity from their neighbors for the occasion, but usually they are reliant on the sun for such luxuries. Being there, needing a headlamp to find my way back to the van where we slept, I was reminded of what an extravagantly luxurious Wagenplatz we have here, how entrenched in the ho-hum of normal living with grid electricity and water. Outside my Wagen it is never dark; the lights on the building beside us burn a mockery of the moon into the night without exception.
If I recall correctly from conversations in years past, these folks have to bring all their drinking water up from the city (a task requiring a vehicle). From the looks of the piles of logs between wagons, I'd reckon that they get their firewood from the forest, and the community spaces beneath which food and music are served at the birthday fest are built of logs as well. A friend tells me it all started with one dude and a tent. Now, 20 years later, they are a community of six or seven who pay 750 euro annually for the privilege. It is one of the most beautiful Wagonplätze I've ever seen, but I am a sucker for the forest, and they are right smack in the middle of it.
At the festival there is music and there is beer (and sometimes there are rallies and beer case climbing competitions, but the games vary from year to year), and people sit in groups around bonfires and Swedish logs that spark chimney-like up into the night as the fire consumes them from the inside out. The bands they invite have never really struck my fancy, but that's not the point. The point is a peaceful/rowdy/drunken couple of days among friends from the rest of the region's Wagenplätze, and a good time camping with the folks from home in a new context. So without further ado, some photos from a relaxing Sunday morning spent among wagons and trees.
The two-story compost toilet:

Bonfire circle, homemade bass, and the cocktail bar on the side of one of this Wagenplatz's community wagons (an extra-wide number created from two wagons pushed up against each other—aka both had one wall cut off to create one big room between them):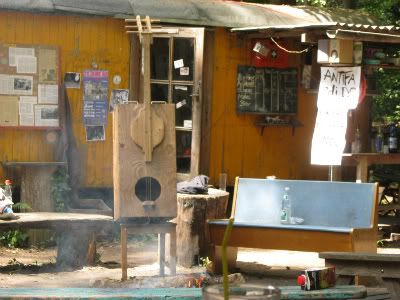 Part of an outdoor kitchen set up, though I'm not sure if they currently use it as such: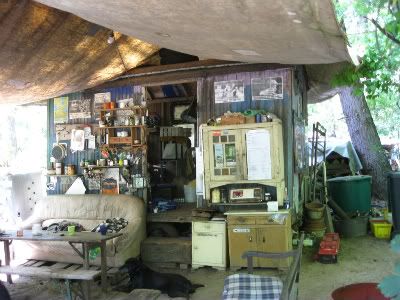 Some Bauwagen life propaganda. In English, "Daddy, why do other people work for half the month to pay the rent? Bauwagenplätze make you happy":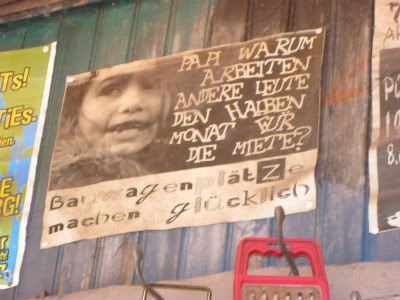 Last but not least…
For those of you who haven't already heard or done so (although it appears that it is possible to vote more than once…), please pretty please pretty please click over to Love and Trash to vote Click Clack Gorilla best of theirs (no registration required, only takes about 20 seconds). If you vote and leave a comment you can win a prize. My ego will thank you.