a note on the printed word
Book luddites unite! I have a new button, and you can have it too if you're a printed-book lover, just click on the image below for the code. It doesn't do anything except to look pretty and to help you say "I like books, wohoo!" even louder than before.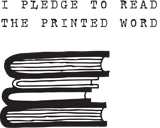 I am not one of those people who claims that reading words on paper is somehow more valuable than reading words on a screen. I just like reading words on paper. A lot. And I especially like the way that books, when I am finished with them, are capable of bio-degrading, or becoming a fire starter in my woodstove. Unlike the plastic and metal parts of my computer/phone/Kindle/whatever. When the world goes to shit those aren't going to be useful at all.
Of course, industry can rain on just about any parade, and the book printing and binding industry are using nasty chemicals (that tend to end up floating around in all sorts of places where they shouldn't be), and when I think about what a world post-industrial-civilization would look like, I often wonder what would become of the printed word. I have a friend intent on arming himself and defending the public library from looters, if it comes to that (ever read A Canticle for Lebowitz*?), and I know that if we lived in the same place in a collapse situation I'd be right there beside him.
That being said I can't imagine that mass-market printing would continue in any form after a big economic crash or environmental disaster. (Though I bet there would be tiny pockets of steam punks running big bulky presses and laughing at the rest of the world from beneath their monocles and well-brushed top hats.) I can imagine enormous public libraries whose books are painstakingly re-copied onto paper handmade from the contents of this century's trash bins. I can imagine traveling tellers, and evenings spent listening instead of reading. I can imagine printing very small runs on hand-run presses, and I can imagine the crafts handwriting and oral storytelling becoming highly valued art forms. And though the thought of having to become more social than I currently am in order to continue my trade, a world with neither Kindles or mass-produced books doesn't sound all that bad.
Where do you stand on the debate about the printed word? Are you newly in love with your Kindle (depsite previous misgivings)? Or are you a printed-book fetishist, like me? Would you be beside us, defending the public library from the hands of the angry mobs so that humans could continue to learn from their mistakes and their successes in a world lacking the electricity to run electronic reading devices?
*In case you haven't read it, A Canticle for Liebowitz is a post-apocalyptic novel that takes place thousands of years after humans destroy most of the world with bombs (nukes, if I recall correctly) and send the world catapulting back into the dark ages. After all the destruction, the masses get very upset with the scientists of the world for having made it all possible; professors are lynched and libraries are burned.
PS Next week I'll be getting back to doing regular dumspter finds of the week on Wednesdays; I've got a heap of finds waiting to be photographed at home and a new submission from Nashville, TN.