39 weeks pregnant: pregnancy and body image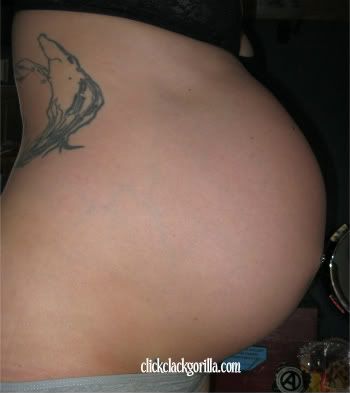 We interrupt your regularly schedule gorilla pregnancy ramblings to inform you that Click Clack Gorilla is being featured on one of her favorite parenting websites today, Offbeat Mama.  *Waves at anyone visiting from over there.*  You'll recognize the article they've posted there from this post but if you go over and check it out you can join in the conversation about aliens and pooping during labor over there.  In celebration of that, I'm posting another prego update post today instead of later in the week as I had originally planned.  Besides, Peanut could be here by the end of the week. (!!!!)  (I hope.)  (!!!!!!!)  For any of you just joining up from Offbeat Mama, scroll down to the end of the post for an index of more prego-related posts, from my decision to do a "house" birth in our trailer to prego acupuncturing to how we found our awesome midwife.
The pressure has always been there, ever since I was old enough to notice bodies or to read Teen magazine (who is that younger version of myself who actually had a subscription to that magazine? 2012 Nikki can barely recognize her).  It was the pressure to be a certain kind of pretty, to wear make-up, to do my hair a certain way, to have certain clothes, and to be skinny like all the models whose bones played the role of hanger to each month's trends.
I studied those magazines like they were bibles, and I went to insane lengths to meet their standards.  I showered every single morning.  Every morning I straightened my naturally wavy hair before caking on a layer of foundation/eyeliner/eye shadow/et al.  I felt wrong leaving the house without straight hair, wouldn't have dreamt of going out without make up.  But the biggest pressure of all was always the pressure to be skinny, horrifyingly, "perfectly" skinny.  Like the hanger women in the magazines.
And yet I've always been skinny myself.  As luck would have it, I happen to be genetically programed for the kind of skinny-ness that has been popular in my lifetime; I come from a long line of paperclip-shaped women.  Yet there has still always been the pressure: to be skinnier, to stay skinny.  What if I gained weight?  What if I wasn't skinny enough?  People would comment on my skinny-ness all the time: they wanted to know how I stayed so thin, they wished they could be so thin, they were worried that maybe I wasn't eating enough.  (While I was busy envying them their curves and their cup sizes and eating like a I had hollow legs.  The grass, greener, etc.)  Through the constant mention, my skinny-ness started to become a part of my identity.  Which only made the pressure worse because it felt like gaining weight would mean losing a part of who I was.
Even though I have long given up the values that used to compel me to put on make up every morning or wear deodorant or straighten my hair, I've never been able to think myself out of the skinny pressure.  Even with a partner who loves me no matter what I look like or how round my belly becomes, I'd never found a way to accept my belly no matter how round it became because I'd never found a way to stop the skinny voices.  Even though I no longer read beauty magazines or watch television or expose myself to the media pressure to look a certain way, it remains, it refuses to leave me in peace.
I'm largely ok with my body these days, and I'm not looking for any sort of pity in mentioning this.  This is not a serious problem, but I think it is a pretty common one.  Thing is, the voices telling me that I need a flatter stomach or less thigh, no matter how often I intellectualize them away, regardless of the fact that I have at least managed to stop letting them influence how I live my life, just wouldn't shut the fuck up.  And I think a majority of women—though with the dawning of so many men's beauty magazines, probably most men at this point too—hear the skinny voices too.
That is, until I got pregnant.
Once I was pregnant the pressure disappeared.  Instantly.  There was a big echoing space where it had been, and I was stunned.  I hadn't believed that it was possible.  I had thought I would have to deal with the skinny voices for the rest of my life, futilely trying to talk myself out of hearing them in some sort of body image purgatory and never finding a gag big enough to stuff their big traps.
But suddenly nobody expected anything from my body anymore, most of all me.  I didn't need to work to be conventionally sexy, I just was.  Everything my body did was perfect.  Every pound I gained was part of the life of the little sea worm swimming in my stomach.  Every pound I gained made me even sexier because being pregnant is as sexy as it gets, is the embodiment of sex itself.  I began to understand how miraculous and powerful my body was.  It could build a human with a complex nervous system and a brain!  It could create the milk needed to feed another human!  It could adapt to having all its organs pushed out of their usual places!  My body could do no wrong, and the pressure was gone!  The pressure was gone!
There are a lot of ladies who don't feel like this during pregnancy.  There are ladies that feel ugly and fat and terrible.  (I wish they didn't because I think they look great.  Contrary to my weird-o expectations for myself, I think women with lots of curves are fucking gorgeous.)  But for them the pressure to look a certain way doesn't stop; the magic doesn't work for everyone.  I don't want to make those women feel bad for feeling that way, during pregnancy or ever.  But I want them and every other woman who has ever heard the skinny voices telling her she looks all wrong every time she looks in the mirror to know it is possible.  It is possible to turn off the skinny voices!  And if they can be silenced during pregnancy, then maybe they can be silenced outside of it.  Maybe there is a gag big enough to shut them up after all.
How did you feel about your body during your pregnancy? And for those who have never been pregnant, how do you deal with the skinny voices?  (If you hear them at all.  And if you don't hear them, I want to know how you managed that too.)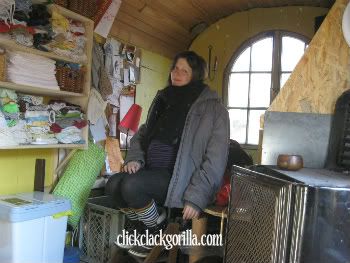 Want to read more about my gorilla pregnancy?  Check out these posts…  (Or check out the entire gorilla prego category here.)
singing during pregnancy (wherein I lament having to vomit onstage at 37 weeks)
38 weeks pregnant: acupuncture and the labor dance
diy pregnancy: the fold-down changing table
birth, pregnancy, and everyday magic
what i read while i was pregnant
midwives and home births in germany