let's geek out: books and brighton and more books
This is my to-read pile. It has gotten a little out of control. Particularly when you consider the fact that I have another to-read shelf that isn't included. This is just my to-read-first pile. The most interesting. The titles I wish I could get into right now, all at once.
I worried that when Baby Pickles arrived, I wouldn't have as much time to read. The opposite has been true. First there were the months when I was stuck under a sleeping and/or nursing baby pretty much all day. Perfect time to read. Now I read a lot because it is such a clear priority, as a lover of words and a writer myself. And I need the escape more then ever. Pickles has been getting new teeth and feeling cranky lately. It is hard and makes me cranky. Reading is therapy.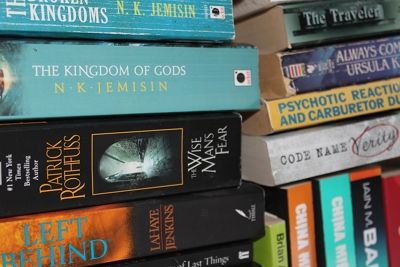 I set myself a high goal this year: I will, so help me cod, read 100 books. I usually manage around 60, but I am currently in the middle of reading numbers 68, 69, and 70. (As well as 71 and 72, but those are two books I have been trying to finish for years, so they might not count as current reads anymore, persay.)  Sure, some of them have been short, written for young adults or kids.  But some of them have been 1000-page monsters.  It all evens out in the end.
So many amazing titles have crossed my path so far this year that I can barely pick out favorites without regurgitating the entire list.  (Hey, book people!  Don't forget to keep track of what you've been reading for the "the year in books" blog hop at the end of the year.)  I adored Patrick Rothfuss' debut novel The Name of the Wind, Ernest Cline's Ready Player One, and Boating for Beginners by Jeanette Winterson.  I read the Twilight series.  I'm re-reading all of Roald Dahl. I read my first Iain Banks (The Wasp Factory—his first novel) and Kelly Link (Magic for Beginners).  It has been a lot of fun, and by the looks of my to-read shelf, it is just going to keep getting better.
In order to take it all to a whole new level (and to see China fucking Mieville), I am going to the World Fantasy Convention in Brighton, England at the end of October.  It will be four days of bliss.  I have never been away from Pickles for that long, and I have never been to a convention.  I can't fucking wait.  And!  Vacation!  Beach and used book stores and shit!  I have put a ban on all book buying until that day arrives.  Unless those books have been written by China, in the name of trying to read all of his novels before I leave.  Brian Aldiss, who will also be in attendance, gets a free pass as well, though I barely enjoyed my first dive into his work (Hothouse).
Oh and did I mention I have a to-read list of e-books something like 70 books long? Let's pretend that doesn't exist.  So many excellent books, so little time…
What are you reading right now?  See anything in my to-read piles that you loved or hated?
Can't read all the titles in the photo? Well, here:
Wastelands edited by John Joseph Adams
The Hundred Thousand Kingdoms by NK Jemison
The Broken Kingdoms by NK Jemison
The Kingdom of Gods by NK Jemison
The Wise Man's Fear by Patrick Rothfuss
Left Behind by Lahane and Jenkins
Parable of the Sower by Octavia Butler
Parable of the Talents by Octavia Butler
Black Wine by Candas Dorsey
The Ocean at the End of the Lane by Neil Gaiman
Reise ins Glück by the print is too small and I don't feel like looking it up
Tunnel People by Teun Voeten
Mignight in the Garden of Good and Evil
Non-Stop by Brian Aldiss
Railsea by China Mieville
Embassytown by China Mieville
Consider Phlebas by Iain M. Banks
Tintenherz by Cornelia Funke
Little House on the Prairie by Laura Ingels Wilder
The Lore of the Unicorn
Moranthology by Caitlan Moran
Riddley Walker by Russell Hoban
The Selected Writings of Fernando Pessoa
The World Without Us
The Little Book of Big Visions by Sharon Dodua Otoo
Snow Crash by Neal Stephenson
The Defense by Nabokov
Angsterhaltende Maßnahmen by Jan Off
Bend Sinister by Nabokov
Selected Works of Annie Dillard
Zone One by Colson Whitehead
Dark Eden by Chris Beckett
Norwegian Wood by Murakami
Der Speigel im Spiegel by Michael Ende
Ich und Kaminski by Danile Kehlmann
Rant by Chuck Palahnuik
Revolt in 2010 by Robert Heinlein
Code Name Verity by Elizabeth Wein
Psychotic Reactions and Carburetor Dung by Lester Bangs
Always Coming Home by Ursula Le Guin
The Traveler by John Twelve Hawks
the things i am thinking while smiling politely by Sharon Dodua Otoo
Wolf Moon by Charles De Lint
The Magic of Reality by Richard Dawkins
11 Comments so far.
Please leave a comment.
Leave a comment
Line and paragraph breaks automatic, e-mail address never displayed, HTML allowed:
<a href="" title=""> <abbr title=""> <acronym title=""> <b> <blockquote cite=""> <cite> <code> <del datetime=""> <em> <i> <q cite=""> <strike> <strong>