we have a sauna wagen !!!
Since moving our trailers, I haven't been able to build a new wood shed (slash baby carriage port slash kid-carrying bike trailer garage), and the Beard didn't want to have to move all the firewood again this season anyway. So instead we keep a box of wood in the trailer, one outside of it, and the remainder waits in Frankenshed to be carried over to our new spots as we need it.
This means that every couple of days I walk past our former living space to get a handful of wood from the shed, now occupied by an enormous circus Wagen and our group's itty bitty Aktionswagen (basically a Wagen we have around to use for events). No one wanted to take the spots that the Beard and I previously occupied for the same reason that we wanted to leave them: it's a beautiful bit of green, but it's the loudest bit too. Now the circus Wagen serves as a sound barrier where I once stood (it's under construction and currently uninhabited) and the Aktionswagen has been turned into a makeshift, sort-of-ghetto-but-totally-awesome sauna and put in the Beard's old spot. Check it out: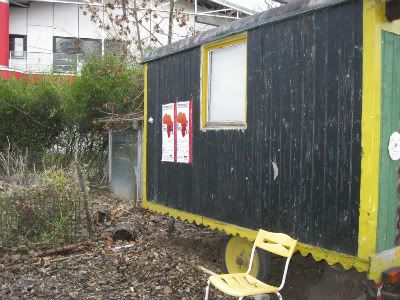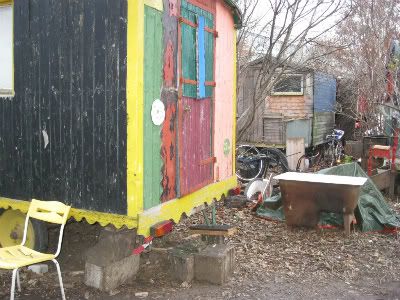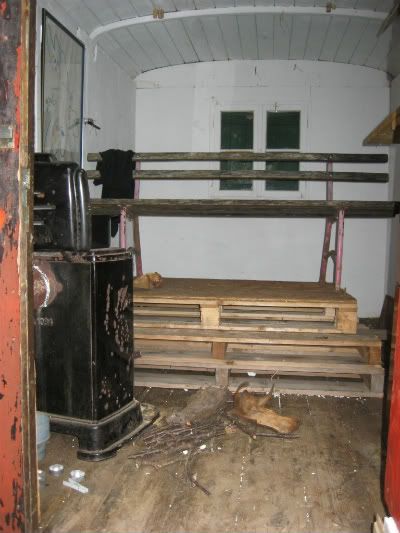 8 Comments so far.
Please leave a comment.
Leave a comment
Line and paragraph breaks automatic, e-mail address never displayed, HTML allowed:
<a href="" title=""> <abbr title=""> <acronym title=""> <b> <blockquote cite=""> <cite> <code> <del datetime=""> <em> <i> <q cite=""> <strike> <strong>