another little trash shed
One of my pals prefers to heat with wood briquettes (as opposed to wood). So she usually orders a little bit of fire wood, and a whole lot of wood briquettes. But this year she didn't order quite enough fire wood. So she did what all of us really should be doing all year long: she drove the tractor to the big university trash corral, brought home a huge load of pallets, sawed them into tiny pieces, built a shed out of some scavenged stuff she had around, and filled it up with sawed pallet bits. Free heat! I spent most of the summer fantasizing about doing just that. But now I can't lift a pallet onto the table saw, so I guess I'll be waiting until next year. And giving my friend high fives. Here are some photos of her pretty little trash shed: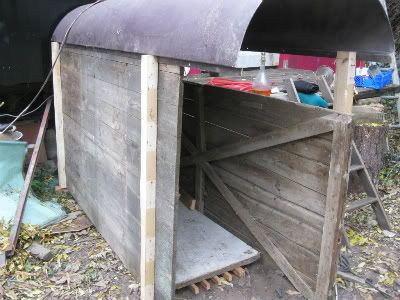 11 Comments so far.
Please leave a comment.
Leave a comment
Line and paragraph breaks automatic, e-mail address never displayed, HTML allowed:
<a href="" title=""> <abbr title=""> <acronym title=""> <b> <blockquote cite=""> <cite> <code> <del datetime=""> <em> <i> <q cite=""> <strike> <strong>