and the winner is…
Last week I posted about a giveaway. You left comments, and I picked a name out of the hat to recieve a copy of New Escapologist Issue 3. To be honest, I decided not to use a hat. Instead I used a random number generator on the internet, as so many other bloggers seem to do for their online giveaways. See: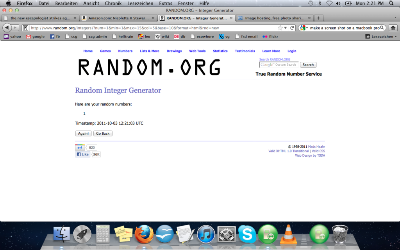 Comment number one was from "filzquadrat" of filzquadrat. (If you haven't already seen my e-mail filzy, pretty please drop me a line with your mailing address, my e-mail address is located in the fine print at the very bottom of this site.) Congratulations and happy escaping!
No Comments so far.
Please leave a comment.
Leave a comment
Line and paragraph breaks automatic, e-mail address never displayed, HTML allowed:
<a href="" title=""> <abbr title=""> <acronym title=""> <b> <blockquote cite=""> <cite> <code> <del datetime=""> <em> <i> <q cite=""> <strike> <strong>