let them eat flowers, or springtime for pancakes
It never would have occurred to me to put flowers in pancakes, until I saw one of my Platz-mates do it and became enamoured. Now when the elder trees begin to bloom—and we have a dearth of them on the property—it's one of my favorite things to do with them. Besides failing at making syrup out of them that is. (Hopefully I'll be trying that again this year, and this year no one will take the brew out of the fridge and leave it to grow a mold sweater in the sun while I am away. Grrrz.)
The process is simple: make some pancake batter like you usually do (which for me consists of equal parts flour and raw milk, and a pinch of baking powder and salt), slap it in the pan like you usually would, and then break off some blossoms from the thicker bits of green branch and stick them in the dough. You'll want to let the pancake cook through as much as possible before flipping it as excessive flower-on-pan action can lead to excessively blackened flowers.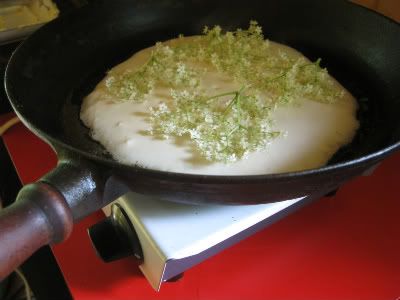 Afterward they'll look like this, you'll feel like a god damn gourmet, and your pancakes will have the light, sweet taste of elderberry blossoms.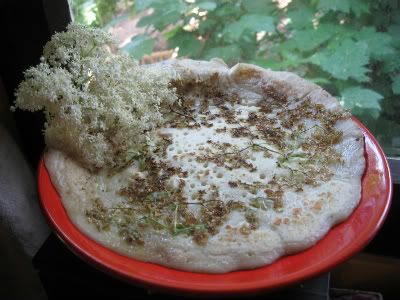 3 Comments so far.
Please leave a comment.
Leave a comment
Line and paragraph breaks automatic, e-mail address never displayed, HTML allowed:
<a href="" title=""> <abbr title=""> <acronym title=""> <b> <blockquote cite=""> <cite> <code> <del datetime=""> <em> <i> <q cite=""> <strike> <strong>