dumpster find of the week: even more wooden boxes
I may have mentioned that I have a thing for old wooden boxes. Though I didn't end up having space for these in my wagon this rennovation around, I'm holding onto them for the day I do. Attached to the wall, they'd make some pretty sweet little cabinets.
The box on the bottom left I found in the Frankfurt Sperrmüll (big trash left out on the curb). The shiny box crowning the pyramid came from the university big trash corral and remains, rather unfortunately, locked. (Time to learn lock picking.)
The slate gray box on the bottom right came from an abandoned school building in Mainz. (The same building in which I found these shoes.) Inside that box are first aid items dated 1934: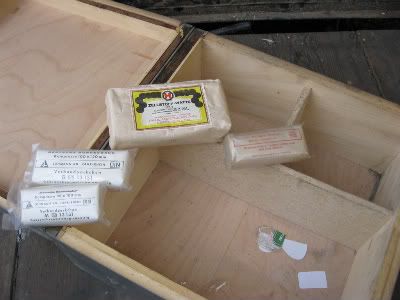 7 Comments so far.
Please leave a comment.
Leave a comment
Line and paragraph breaks automatic, e-mail address never displayed, HTML allowed:
<a href="" title=""> <abbr title=""> <acronym title=""> <b> <blockquote cite=""> <cite> <code> <del datetime=""> <em> <i> <q cite=""> <strike> <strong>