dumpster find of the season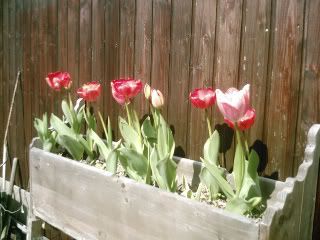 As last fall was on its way out, the bulbs that bore these tulips were on their way into the grocery store dumpster. And I wonder, had they made it to the dump, would they have sprouted there among the garbage? I like to imagine they would have, although the reality is probably that the winter's trash would have encased them deep in a humid, plastic tomb.
3 Comments so far.
Please leave a comment.
Leave a comment
Line and paragraph breaks automatic, e-mail address never displayed, HTML allowed:
<a href="" title=""> <abbr title=""> <acronym title=""> <b> <blockquote cite=""> <cite> <code> <del datetime=""> <em> <i> <q cite=""> <strike> <strong>