the suitcase
There used to be a small wagon between the red wagon and the spot where my future wagon will be. We call it "the suitcase." A few days ago we moved it to another part of the wagenplatz.
Before: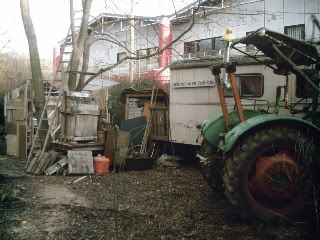 After:
Where did all that space come from? The suitcase is small, three meters, tops, yet now, now! I look around and my eyes fill with the garden that will, in a couple of months, have taken the suitcase's place.
4 Comments so far.
Please leave a comment.
Leave a comment
Line and paragraph breaks automatic, e-mail address never displayed, HTML allowed:
<a href="" title=""> <abbr title=""> <acronym title=""> <b> <blockquote cite=""> <cite> <code> <del datetime=""> <em> <i> <q cite=""> <strike> <strong>