trash house
"Nikki, you're not going to be able to fix up the whole wagon without any money." The words of a non-believer. "You're going to need materials, tools."
"I can borrow all of the tools. And maybe in the end I will have to buy a few things, it's looking like stain and paint right now, but so far I've found everything I had on my "to buy" list when I started. It's turning out to be a damn good thing I didn't have any money then. The longer I wait, the more I'm finding."
He shook his head, thinking I was naive. I shook my head, thinking he was mighty skeptical for someone who also regularly dug through the trash.
If I didn't need to get the outside finished by winter, I would probably be able to find everything I need. A Frankfurt acquaintance spent three years collecting materials for the house he eventually built, gratis. With only a few months to scavenge supplies, I'm still looking at a pretty short list. It will probably end up setting me back a few hundred euros—a few packs of Styrofoam insulation, a few packs of that awful pink insulation (for the ceiling), some extra-long screws, a short but really thick beam, some sandpaper for the belt sander—but seeing as I didn't have to pay anyone for the thing in the first place, it's a fair enough trade. As for the stain I thought I'd be needing, I found several cans of it today, and a platz-mate gave me two more full cans for the outside. And yesterday The Carpenter found two jigsaws, a drill, and a belt sander in the trash, and gave me one of the saws. Time is on my side.
The state of things: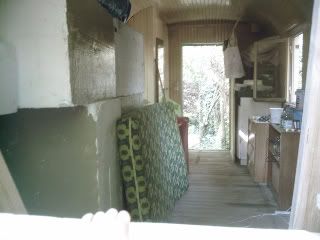 4 Comments so far.
Please leave a comment.
Leave a comment
Line and paragraph breaks automatic, e-mail address never displayed, HTML allowed:
<a href="" title=""> <abbr title=""> <acronym title=""> <b> <blockquote cite=""> <cite> <code> <del datetime=""> <em> <i> <q cite=""> <strike> <strong>