hot off the press
Holy shit holy shit holy shit! My zine is finished. It's a collection of click clack gorilla stories. And did I mention it's finished?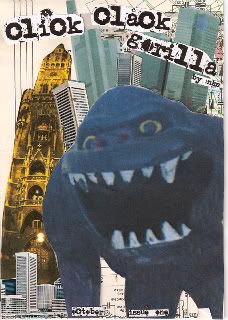 If you want a copy we'll either need to figure out a way for you to get me a euro fifty, or what we could trade. It's 20 pages, black and white in all its photocopied glory. Better pop the champagne.
6 Comments so far.
Please leave a comment.
Leave a comment
Line and paragraph breaks automatic, e-mail address never displayed, HTML allowed:
<a href="" title=""> <abbr title=""> <acronym title=""> <b> <blockquote cite=""> <cite> <code> <del datetime=""> <em> <i> <q cite=""> <strike> <strong>